How did Chef Joseph Viel lose weight without giving up his favorite foods?
For aspiring chefs, it's only natural that eating was part of the job. But to Joseph Viel, that uncontrolled eating would be the very thing that keeps him from his dreams.
A lot of people turn to fad diets for easy weight loss, so Joseph himself decided to try out the Ketogenic diet. Well, you can imagine how well an Italian chef going low carbs went. But with the help of some close friends and experts, he found a way to eat healthy without having to sacrifice his cultural background.
"When a diet makes you feel restricted, there's a huge possibility that you will fail."
Now at 32, Joseph is an accomplished chef and owner of Commissario PH who is down to almost 230 pounds! Learning about macronutrients, tracking food calories, and doing regular exercise are his secrets to a sustainable and healthy lifestyle.
Tell us about your eating habits and weight loss problems. When did you start thinking about how to lose weight?
For as long as I could remember, I've always struggled with my weight. I used to love unhealthy foods and snacks, and it became a terrible habit. A meal never felt complete until I couldn't eat anything anymore. I'd only truly feel satisfied once I'm bursting from my belt. It became a real problem when I hit 325 to 330 pounds. 
Because of my poor diet, I always felt weak and was more prone to getting sick. My left arm would go numb from time to time. The numbing sensation would occur frequently. Sometimes in the middle of the night, I'd wake up to a numb left arm. Sometimes both. At this point, I knew that if I did not improve my lifestyle and eating habits, this would be the end of me. 
As a chef, the nature of my work is very physical. Working on your feet 12 to 14 hours every day is no joke, and I needed a body that I could depend on. I also have a lot of dreams that I wish to achieve. But if my numbing arm couldn't even grip a knife, my chances of living and achieving my dreams are becoming slim with each passing day. Also, I have a mom who's currently suffering from stage III breast cancer, and she's depending on me and my siblings to take care of her.
What kind of diets plans have you tried?
Way back in 2009, I tried the Atkins diet. It yielded some noticeable results. But after six months, I found myself binge eating on various foods and snacks that I knew were prohibited in the diet. I also tried other approaches to weight loss such as the "No eating after 6:00 pm", "No rice", "Drink hot green tea daily", "Drink a liter of water before eating" etc. and found no avail.
I gave the Ketogenic diet a shot because a friend lost quite a lot of weight with it. He showed me the ropes and explained the mechanics behind the diet. At that point, I figured to give it a shot. What else have I got to lose anyway?
What difficulties did you face following this diet plan?
The rule of having no more than 25 to 30 grams of carbohydrates a day was just crazy! That meant no pasta for a guy like me, which frankly, felt absolutely insane. Since I was restricted to getting my carbohydrates from broccoli or cauliflower, that just made me miserable. Quite literally miserable. It felt like mental torture, always worrying I'd lose all the progress that I've had with just had a nibble of pasta or a spoon of rice.
"...If you view food as fuel for your body and reward yourself with a small treat after a long day, you'll develop a better relationship with food."
How did you end up finding the right diet plan that worked for you?
I gave up the ketogenic diet after two of my friends spoke to me on the matter. One, being a doctor, who expressed his professional opinion on the diet. It was mostly negative, and he explained the potential dangers of a high-fat diet to lose weight.
The other is Karen, owner of Pickle Healthy Delivery. She explained to me the concept of macronutrients and calorie counting, and how you can still enjoy the foods you'd once restrict yourself from though portion control. Naturally, that piqued my interest and I figured, why not give it a try. Especially since, at this point, I just needed one more reason to give up on the ketogenic diet. And the universe gave me two.  
Pickle is a healthy diet delivery service that offers calorie-controlled and macronutrient-balanced meal plans. Pickle made everything so much easier. From meal preparations to not having to worry about the right measurements of food ingredient. Pickle took a huge load off my shoulders. As a chef, most of my time goes to cooking for others. Ironically enough, I don't have much time to cook for myself, let alone weigh everything and calculate the macronutrients. More importantly, their delicious meals did not make me feel that I am on a weight loss diet at all.
Pickle was the help and partner I needed for the longest time. All I needed to worry about was what exercise to do for that day.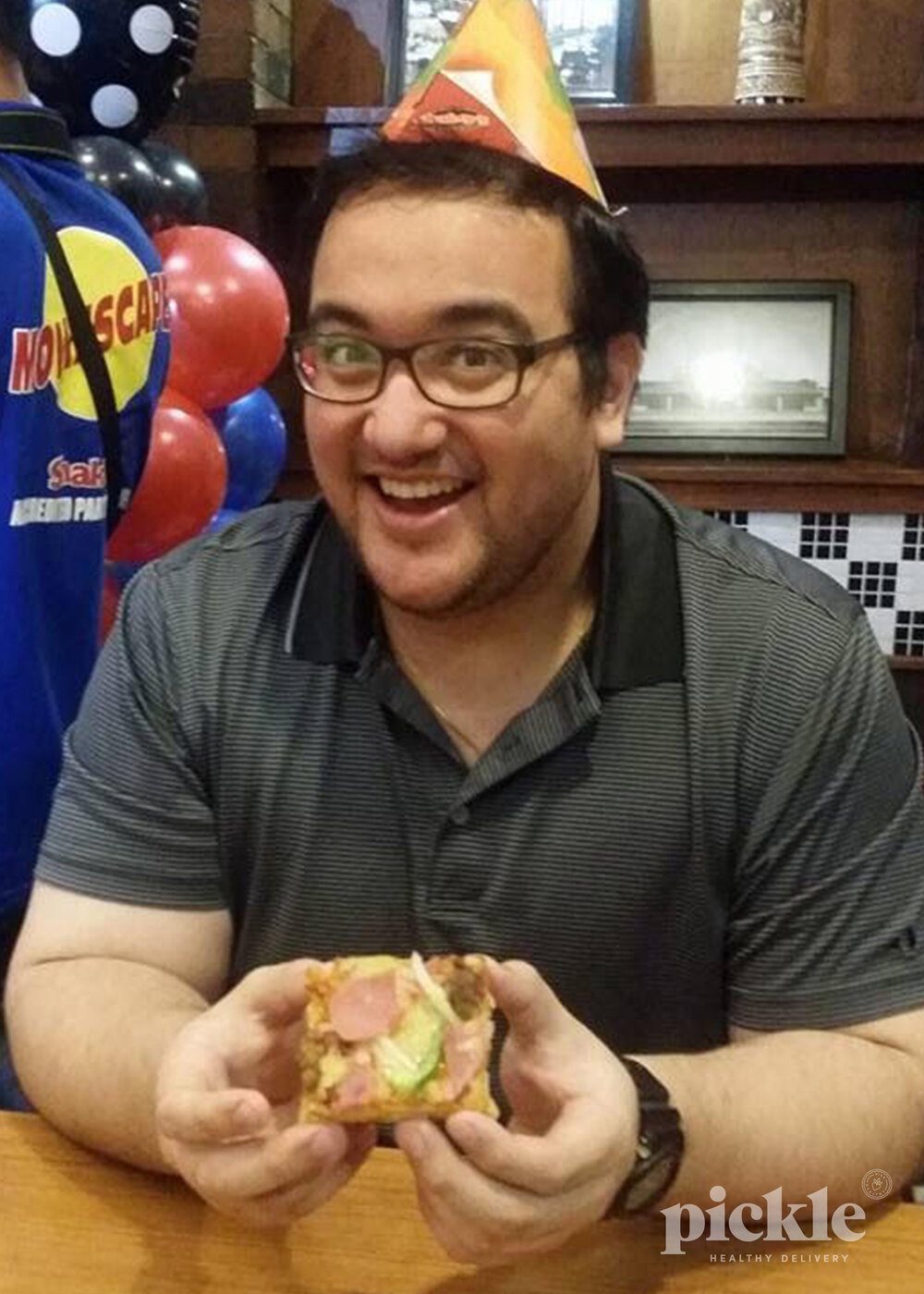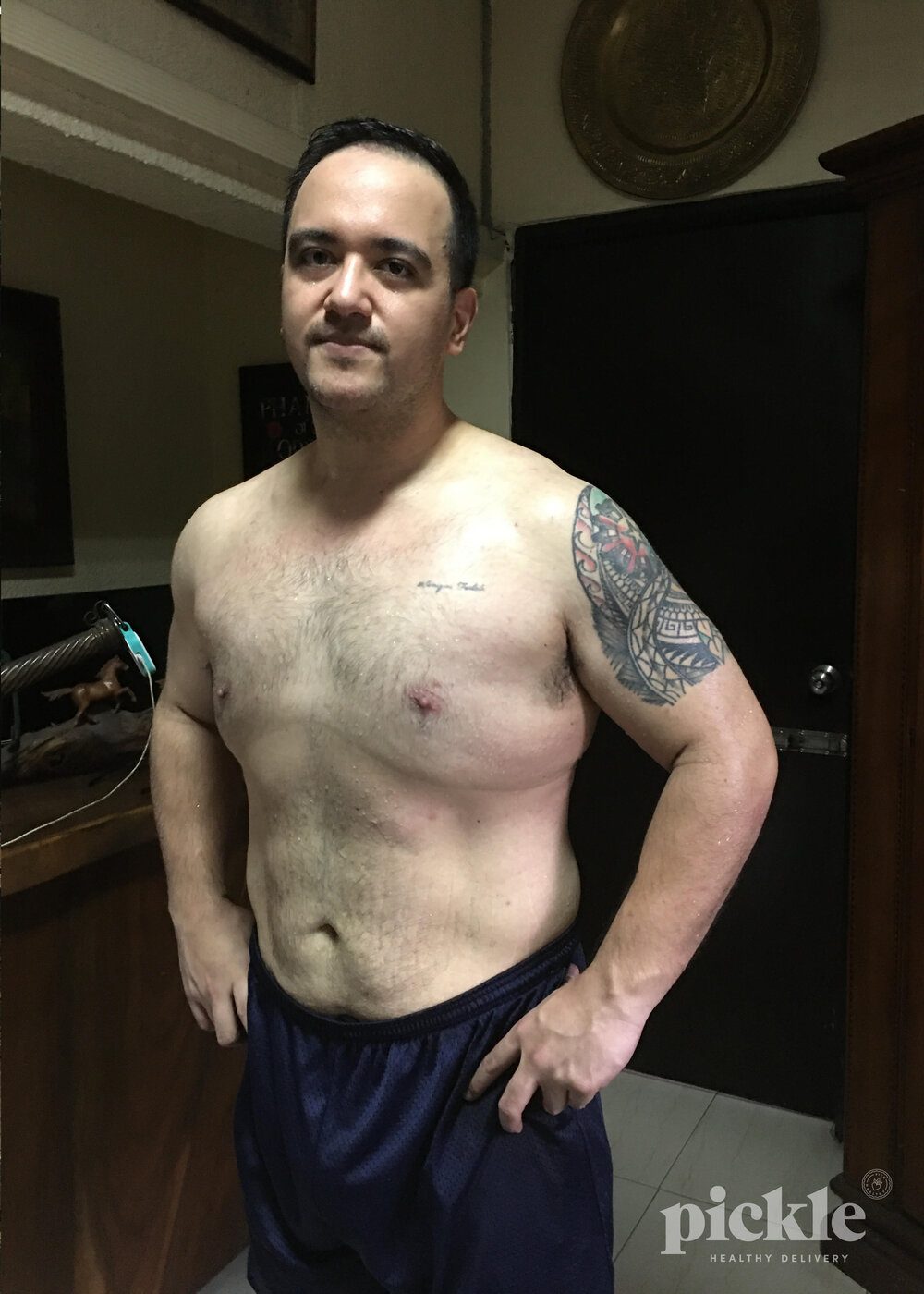 What is your diet like now?
My diet now is relatively flexible. I eat almost anything I want. But, I eat my whole foods first. For carbohydrates, I'd work with brown, black, red, or white rice. Potatoes or sweet potatoes, and pasta from time to time. For proteins, I primarily eat chicken breasts (since it's easy on the budget), followed by pork belly and beef as a third option when I have some extra cash. I also make sure that my plate has vegetables. I eat mostly broccoli and cauliflower. If not that, any leafy vegetable like spinach, kangkong, bok choy, pechay, etc. Lastly, for dessert, anything sweet like an ice cream or a chocolate bar. I just make sure not exceed my daily caloric needs when I do eat sweets.
My personal approach to food is now healthy. If the food comes sealed in foil packaging, a bottle with preservatives, a plastic wrapper, or a fast food joint, I'd only eat that once or twice a week. Anything fresh, I'd eat daily.
How did your perspective on food and diets change? What was the most important thing you learned about healthy eating?
I realized that I had such a skewed relationship with food. It wasn't always so much about what you ate rather, the quantity of it. It goes without saying that there are healthier options, without a doubt, but one shouldn't have to worry about enjoying a cheesecake once or twice a week. Back then, I honestly thought that if I were to eat sweets or foods that are frowned upon, I'd screw my diet up. 
The only time you screw up your diet is when you exceed your daily calorie needs. That's why I've become such a huge fan of weighing my food and tracking what I eat now. God bless modern-day apps! I also learned that if you view food as fuel for your body and reward yourself with a small treat after a long day, you'll develop a better relationship with food. These, I mostly learned from Pickle after subscribing to their meal plans.
It's important that you are happy. When a diet makes you feel restricted, there's a huge possibility that you will fail. I experienced just how better my body functions when I feed it proper whole foods versus processed foods.
What is your workout routine like? And how does it fit into your schedule?
Before it was a nightmare to do any kind of exercise, so I just started by walking. I'd walk until I was tired and timed it. I could only walk for 10 to 15 minutes when I first started. Then after every week or two, I'd push myself to walk farther and longer. The next thing I know, I began doing home aerobic workout videos on YouTube, which progressed to a high-intensity workout. Finally, it turned into weight resistance training and a daily choice of cardiovascular exercises.
"Excuses become stronger and believable when the mind and body gets tired after a long day."
My workouts now are mostly weight resistance training, high intensity interval training, and any form of cardiovascular exercises that I can think of. I go to the gym, hit the weights, join CrossFit sessions. Personally, I love boxing and Muay Thai. 
My schedule can be very erratic, so I simply take it day by day. The moment I see a window to work out, I grab it. I like getting my workouts done first thing in the morning or before 3:00 pm. Working out at night can be tiring for me because all the physical work from the kitchen would have left me exhausted and drained. Excuses become stronger and believable when the mind and body gets tired after a long day.
Were there times when you felt down? What kept you motivated?
There were a lot of times when I felt down. From an unhealthy relationship, to stress from running your own business and even just finding the time to do things in general like taking care of my mother's need. It's easy to feel like everything's just going out of control. Though, what kept me motivated was how far I've come. Going back to my old self would never do me any good.
Us, chefs, have this classic excuse as to why we are fat.
"We're chefs! We'll naturally gain weight!"
I hope to end that by being an example to all of them.  I also hope to inspire other chefs out there and show them that you can achieve your ideal body if you first educate yourself on proper nutrition and start living an active lifestyle. If the 330-pound chef can do it, so can you!
Now that you've achieved quite a lot, how do you plan to maintain it? What are your next goals?
By simply sticking to what I do now, I found this system that works for me, and I see myself doing it for a long time. In the event that something does happen that shakes my system, I'd just have to adapt and find ways to work around it. Exercise is a non-compromising factor in my day to day routine. Failing to exercise makes me feel like I failed to shower for the day. And, I reckon, everyone finds the time to shower if you make the effort to do so.
Do you have any tips or advice for those who also want to lose weight?
My first tip is to educate yourself. When I first started, I knew nothing. So, I read a multitude of articles, watched a lot of Youtube videos, and spoke to so many doctors, coaches, and other people who were also on their own weight loss journey. I needed to understand just what it took to lose weight the right way. Information is available thanks to Google. Use it. And try to filter what is and isn't accurate. If you are still unable to do these, find an efficient and reliable partner. Pickle Healthy Delivery is just a message away.
My second tip is to understand that weight loss starts with two crucial foundations: nutrition and exercise. You cannot work out a bad diet in the same sense that a good diet cannot compensate entirely for the lack of physical activity. 
Lastly, learn from your mistakes. It's inevitable that you'll commit many mistakes along the way. Be it the foods you eat, the amount you eat or how you executed a deadlift exercise. Be open to learning and improving, and be patient with the process. There's no quick and easy way. There is only the gradual process of hard work and dedication to the regimen. It also teaches you discipline and appreciation for what you're putting yourself through. Improve your mind frame to improve your body. 
And for those wondering, I started my weight loss journey back in December of 2015, my birth month, I said that I would lose the weight as a gift to myself. The gift of change. And I'm staying true to my promise because in the end, it's for my benefit anyway. I'm so glad that I started when I did.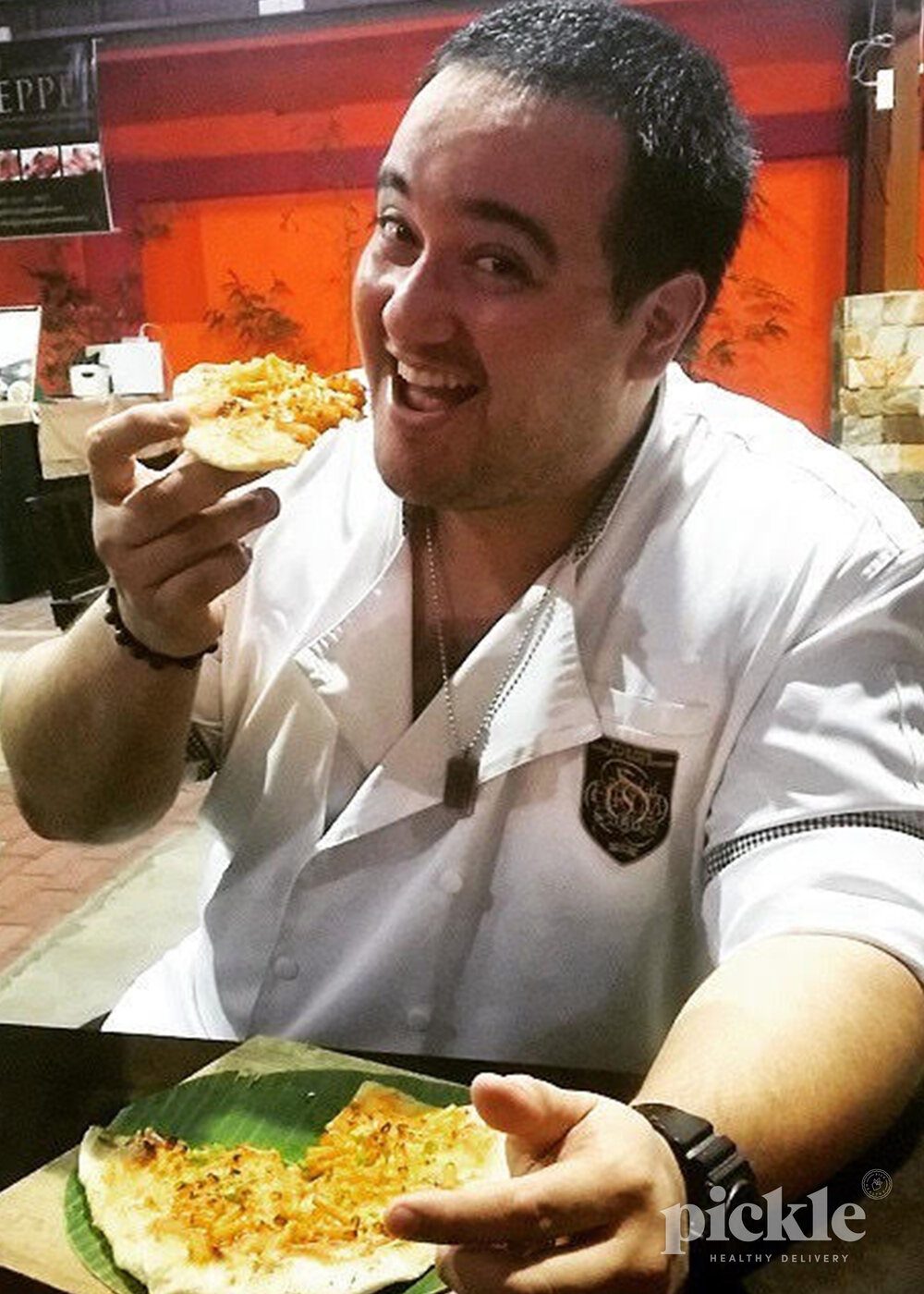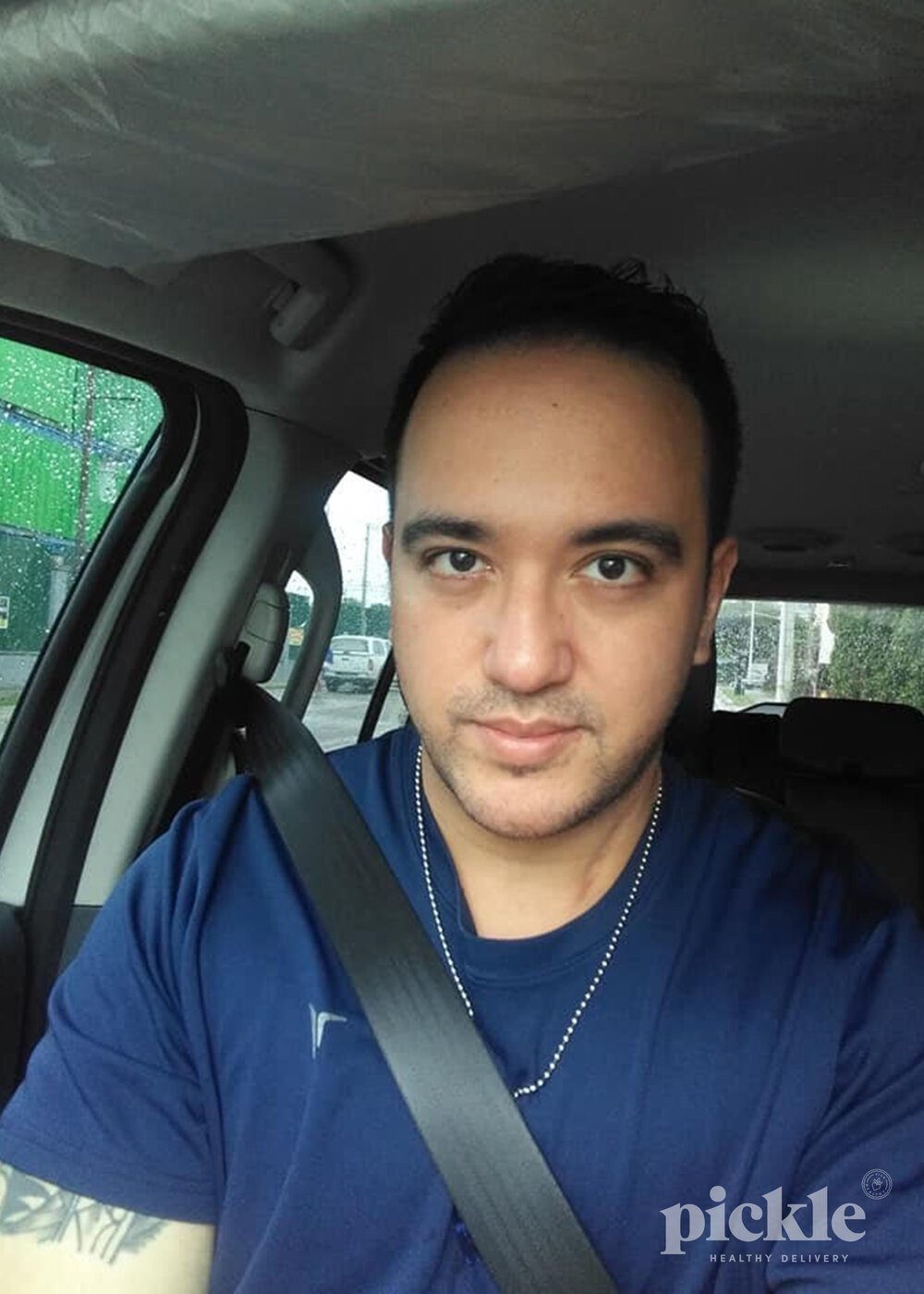 Want results just like Chef Joseph Viel? Try our meal plans TODAY!